There are four main fan games created or conceptualized by the community for An Untitled Story.
An Unofficial Story (AUoS)
Edit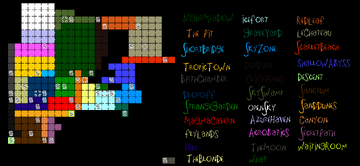 An Unofficial Story is a sequel to An Untitled Story. It was made exclusively by a forum user named "Ethan." He nearly completed it. However, due to the fact that his "hard-drive got milk-fried due to [his] cousin," he has lost all motivation and isn't working on it anymore. However, he does still have archives of the project. According to Ethan, anyone is free to adopt the project and work on it.
AUoS has 33 areas that are intended to be accessible. Two normally inaccessible areas, MidnightDungeons and TheCoolPlace, are only accessible via glitches, and there are some JumpBox-theme backgrounds in the files. Using a glitch, you are able to access UnderTomb, FinalClimb and BlackCastle, but they don't have backgrounds and are very glitchy. You are able to defeat FinalBoss.
The story is that the protagonist of the original game, after defeating the FinalBoss, discovered a new island where the birds built TropicTown. The Bandit, Explorer and Kurstyn are long gone, however, the protagonist is still alive and trying to build a machine to create a portal so he can go far away. It requires 3 gold orbs to power. However, it was not implemented and not seen in-game.
Features
Edit
There are 3 new abilities in AUoS. There is the ability to use green energies to get a boost (much like the original game's red and yellow energy jumps) and two visibility upgrades that allow you to see better in the dark. There is an orange energy cluster that acts like a blue energy but only works with ice shots. There are 5 bosses, with three that award a gold orb.
An Untitled Tale (AUT)
Edit
An Untitled Tale was meant to be a prequel to AUS, but never really took off. There are a lot of backgrounds drawn. It was meant to completely made from scratch. Several people have tried to revive it, but no real progress was made.
There are a lot of backgrounds for areas. Some of them include a rocky area and a bloody area.
The story takes place some 20 years before the original game, where birds have discovered a chain of islands. The player controls a different bird.
An Untitled Story Extension Project (AUS:EP)
Edit

AUSEP is meant to be a direct continuation of the original game. Originally it was being made by a large group of people. However, it didn't work out. Everyone stopped working on it. Now there is only one person who is currently working on it. Zario777, aka zario12, is nearing completion.
There are 44 new areas in AUS:EP. Players start off in the original map and go right past LongBeach into SkyLands. At one point, extra screens were added to StrangeCastle and Mountside to gain access to UnFair. However, this was removed due to "being poorly implemented" and "easily cheesed" As Zario777 says.
There is no real story yet, other than the fact that this is literally an extension project and it includes the full main game.
Features
Edit
There are many new abilities, including a green energy jump (like AUoS), one that plays a sound whenever a secret is in the room, faster and further shots, and more toughness upgrades. There are going to be around 30 new bosses. There is another collectable that act sort of like Gold Orbs called Diamonds. There is a purple energy that creates a snake of blocks in a certain direction. There is a second shop like the one in SkyTown.
A Dreamlike Story (ADS)
Edit
A Dreamlike Story is currently in development. It has not yet been decided where it fits into the AUS timeline. It is currently being worked on by FlameVapour, with support from Discord users TheGucc, Demon Turtle, and Zario.
The number of areas in still currently undecided. So far 1 area is fully complete, 1 is being redrawn, 3 need bosses, and 5 don't have all their screens finished.
There is no real story yet, however it might just be a dream of the protagonist or take place after a plane crash. The character starts off as a bird, not an egg.
Features
Edit
There are no new abilites, but there are 3 new enemies, and a new shop system.
All three games with gameplay use the song Mellow by RarePickle.
In AUS:EP, the ColdKeep boss, ColdBlob, was broken and was removed.